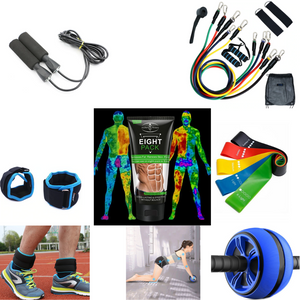 There's no need for a gym membership if the gym is in the comfort of your own home!
This workout kit gives you all the essentials you need to lose weight and stay fit. Having exercise equipment at home can make it so much easier to get your workouts in and transform your body.
A special product in our kit that takes your workouts to the next level is our Thermo Gel. This gel gets the most out of every workout by increasing blood circulation and stimulating fat burn, making you sweat so much more during any exercise. You don't need a lot to see huge results. Lose weight and strengthen your core, arms, chest, shoulders, thighs, and butt with our Home Workout Kit.
Our Workout Kit Contains
1 Jump Rope
1 set of Resistance Bands
1 set of yoga bands 
1 set of ankle weights
1 Thermo Gel
1 Ab Roller